Control Your Reputation to Get More Customers


Collecting a high volume of new authentic reviews on a consistent basis is not going to happen without a dedicated strategy. An online review management platform automates and streamlines the review generation process so you can connect with every customer without taking time away from running your business. A steady stream of new reviews boosts SEO, increases click-throughs and conversions, and drives more organic traffic to your business. Not to mention, the more reviews you have, the less impact one negative one will have on customers' overall perception of your brand.


Get reviews from your happy customers on and more!
Drive growth with great customer experience
Dominate local search
Improve ratings to increase revenue
Be in the driver's seat for all your locations

GET NEW REVIEWS WITH LINK RIGHT MEDIA


Gather new reviews from your customers via automated SMS and MMS alerts sent to their mobile devices. Intelligent deep linking directs them to crucial sites to post on, like Google and Facebook. Link Right Media allows you to customize all text messages and emails.

Collect hundreds of new reviews from your satisfied clients on sites like Google, Facebook and Angie's List so when customers search they know you're the best for the job.
Auto-promote positive
customer feedback
Turn customers into advocates! Automatically publish the reviews of your choice on any site you manage — your website, blog, and social pages like Facebook and Twitter. Prompt satisfied customers to share feedback to sites that matter to you, like Facebook and Citysearch, amplifying happy customer voices across the web.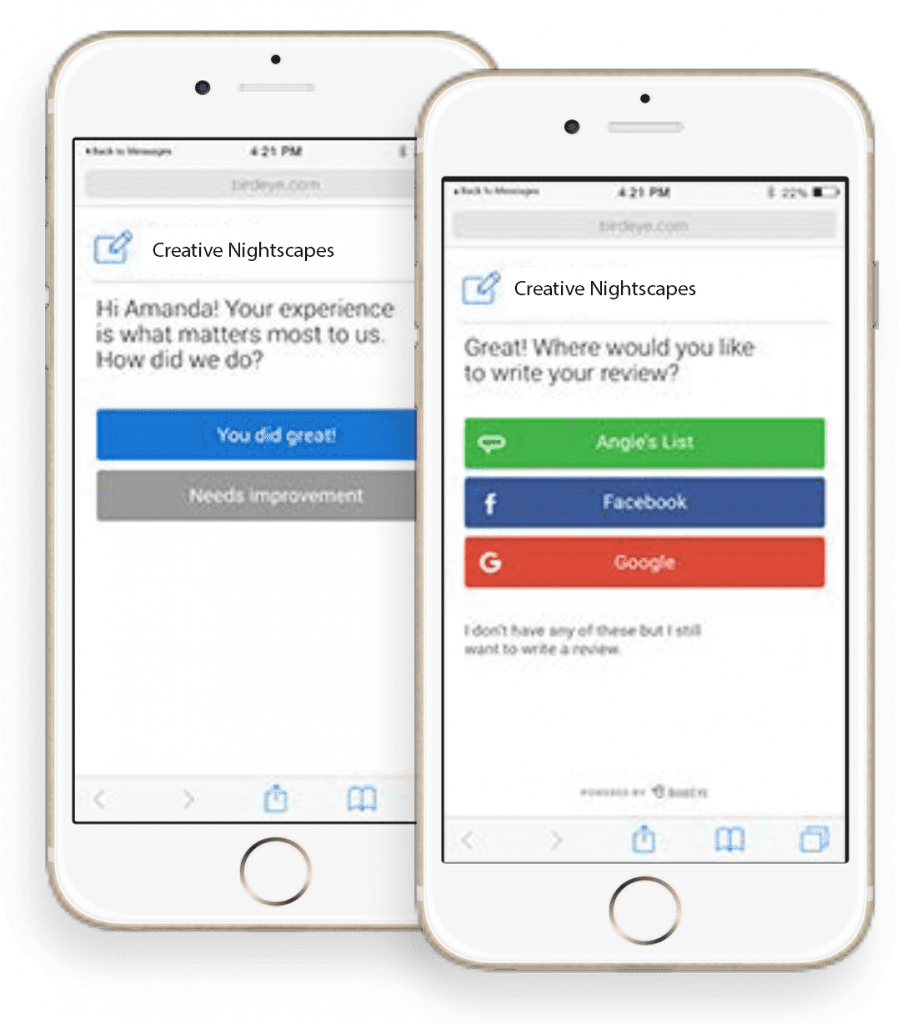 Rank higher on Google search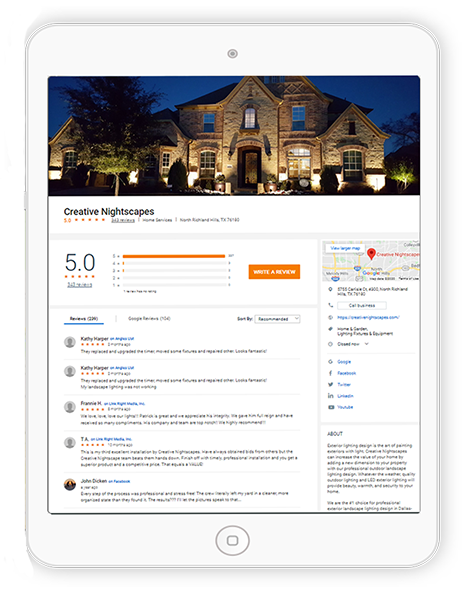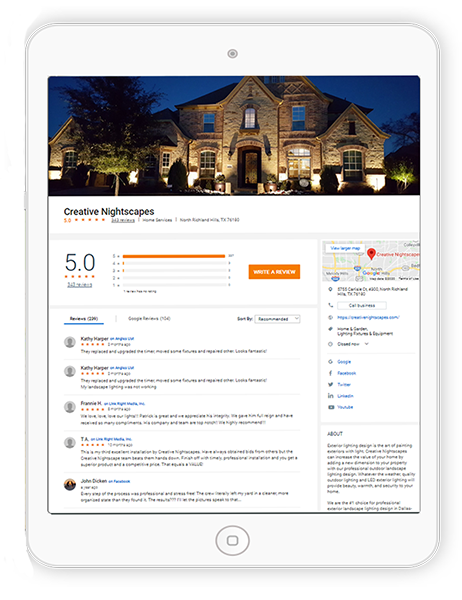 Local listings are the third most influential factor in search engine rankings. Keep up-to-date and consistent business information (name, address and phone) across 50+ review sites that matter most to your business so you're found easily in online searches. Display all your best reviews and updated business information on your microsite from Link Right Media-optimized for search engines indexted by Google.

Manage reviews, boost ratings


Monitor your online reviews from hundreds of sites like Google, Yelp, Angie's List and Facebook, in real-time.
• Respond to all feedback directly from one dashboard
• Manage negative feedback directly through private channels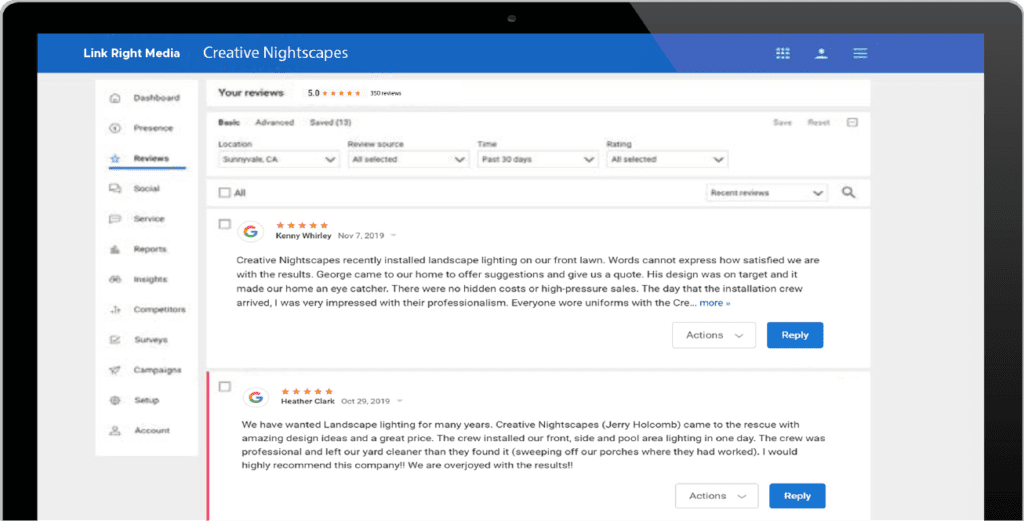 LINK RIGHT MEDIA CAN HELP


Link Right Media review management platform gives your business the tools to leverage positive word-of-mouth and take control of your online reputation. With Link Right Media, easily run happy customers into brand advocates.

Get reviews on top sites like Google, Facebook and Angie's List via automated SMS or MMS messages.
ONLINE PRESENCE
Create a consistent presence for your business on 50+ sites and boost SEO with new customer reviews.

REVIEW MARKETING
Auto-promote reviews on your website, blog, and social pages like Facebook, Twitter and Google+.

BUSINESS INSIGHTS
Discover root cause of sentiment and take action to boost customer happiness.



REVIEW MONITORING
Monitor all your reviews from all sites like Google and Angie's List — in real-time, from one place.


PREMIUM SUPPORT
Get results quickly with premier customer service and a dedicated support representative.
REVIEW TRIAGE
Respond instantly to negative reviews before problems escalate.



REVIEW WEBSITE
Display your best reviews from all sites on your custom-built microsite, optimized for SEO.
The Link Right Media platform makes the process easy by:
• Sending automatic real-time requests to your customers at critical moments
• Directing happy customers to third party review sites that matter most to you
• Instant new review alerts so you can respond to negative feedback instantly and solve problems before they become problems
Don't let bad customer reviews get you down. Instead, use them to connect with your customers and nip issues in the bud to keep your online reputation squeaky clean.
Contact Link Right Media to maximize your Pay-Per-Click campaign. Our paid search and PPC marketing team can increase your conversion rate and drive new customers to your business. Call 817-890-6165 to learn more about our affordable PPC services.